THIS IS AN EXAMPLE OF A VIDEOCHAT USING
Script Planner
This Video Avatar Chat is Only Active on Saturdays and Sundays (local time)
Lets explain Script Planner
Watch Script Planner in action
Why Choose Script Planner ?
If you or your client are using scripts on their websites and you want to get the scripts activated on a specific page(s) or at a specific time, then you need script planner !
Script Planner is an easy to use wordpress plugin that will plan your script.
Online chats or similar scripts can be annoying when they are not being used.
Do you need them to be active 24/7 ?
Maybe some scripts need to be active only on specific pages, or at a specific date.
That is why we created script planner.
Script Planner plugin provides a variety of options so you can plan your script on the page(s) or post(s) when and where you choose to have the script activated
Stop waisting time on developers or countless hours trying it yourself. Get more conversion and stop losing sales and say yes to your clients and customers !
With Script Planner you can plan your scripts anytime and anywhere !
Script Planner
premium wordpress plugin
With Script Planner Premium Plugin you are able to plan or schedule scripts on single page or multiple pages, at a time and day(s) or specific calender date  of your choice.
PRODUCT
SCRIPT PLANNER WP PLUGIN
DISTRIBUTION
DIGITAL PRODUCTIONS
DEVELOPER
CMS EXPERT
WEBSITE
SCRIPT-PLANNER.COM
SCRIPT PLANNER
LETS REVIEW
After you activate the script planner you can select a new script or use one of our done for you scripts settings.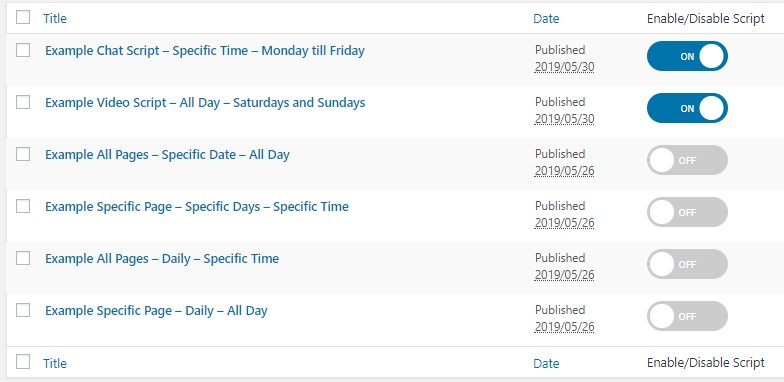 Each script offers a variety of settings and options. You can choose to activate multiple scripts on a everyday, multiple of specific day and time base !